Take your Genesis to the next level
The fully integrated Genesis solution provides industry-leading technology and capabilities, such as complete software-based repair & refurbishment, to provide the highest possible yield. Now with GenesisXP, you can expand your Genesis infrastructure to attach your Disk Enclosures for HDD/SSD Test, Erasure & Grading.
Drives that either fail GenesisXP or pass as Grade B or C may be recoverable to Grade A status through Genesis repair; a notification will be displayed for drives that may be suitable.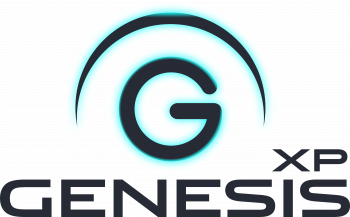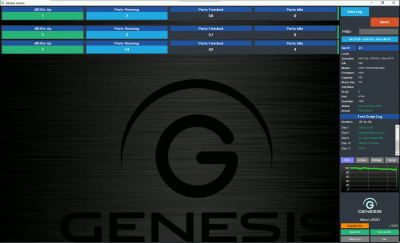 GenesisXP Server
All Genesis Systems (8, 16, 32, 64 & 96-Port) are compatible with GenesisXP. The XP solution is connected through a dedicated Server with four SAS/SATA (SAS 3G/6G/12G) outputs to connect to your chosen Disk Enclosures. The Server can be installed neatly in your Genesis system or externally in your Disk Enclosure cabinet. GenesisXP is compatible with all the leading enclosure vendors, except IBM StorWize.
GenesisXP Key Benefits…
• NIST 800-88 Erasure of HDD & SSD devices
• Configurable Drive Grading – Guardian Health Score
• TCG Encryption unlock via PSID/MSID
• Full reporting and certificates of Data Erasure
• Use your existing hardware to expand your Genesis
• API & XML ERP integration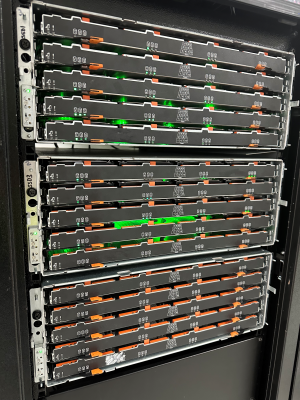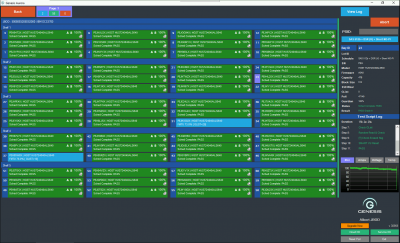 Integrated Solution & GUI
GenesisXP integrates into the Genesis GUI/Touch-Screen, so there is no need for any additional displays. You can toggle through the enclosures to view individual drives on test. Drives tested/erased on GenesisXP is managed via the Ultratest web portal.
Licencing options
Regardless of the size of your Genesis, with GenesisXP you can licence additional Disk Enclosure by the number of concurrently active ports; 32, 64, 96 or 120+. You are able to attach more than the licensed number of ports, but only the licenced amount will function concurrently. We permit in excess of 120 drives to run, however you may see a degradation in performance, so we would advise running additional GenesisXP servers to retain the highest possible speed.
Request Price
GenesisXP Supported Disk Enclosures
Most SAS based Disk Enclosures will work fine with GenesisXP. Below is a list of the products we have tested in our lab and can confirm compatibility. Note: We can also confirm that HDS Vantara and IBM Storwize are not compatible and we would advise against use.
| | | |
| --- | --- | --- |
| | | |
| | | SAS 3G/6G/12G - backplanes with LSI expander chipsets are supported |
| | | |
| | | |
| | | |
| | | |
| | | |
| | | |
| | | |
| | | |
| | | |
| | | |
| | | |
| | | |
| | | |
| | | |
| | | |
| | | 2.5" 24-bay 12G and 3.5" 84-bay 12G |
| | | |
| | | |