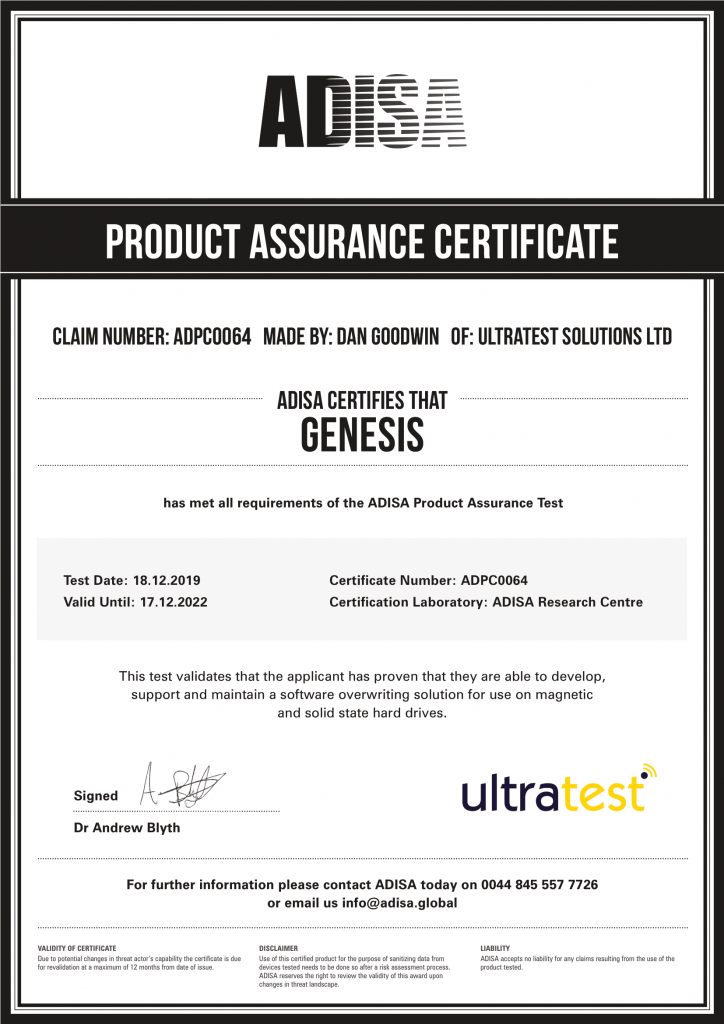 Proud to announce…
Ultratec Group, the leading provider of data security services and solutions, announces that Ultratest Solutions, a division of Ultratec, is the world's first successful applicant to pass the ADISA Product Assurance Test on its new Genesis Hard Drive Repair & Data Sanitisation product.
The Asset Disposal and Information Security Alliance (ADISA) launched its Product Assurance service in 2020, to provide a higher level of accreditation to the internationally recognised ADISA Product Claims Test that assesses the capabilities and development of software overwriting products.
Ultratest's Genesis product is a fully automated, standalone solution for volume Data Erasure, Drive Test & Repair on SSD and Hard Drives. Genesis has been born out of more than 20 years of knowledge and experience in data wiping & servicing hard drives. The technology has been designed with the aim of providing an easy-to-use automated platform for data sanitisation, with unique features including the repair of drives to a Grade A zero-defect standard.
Genesis was submitted to the ADISA Research Centre under test reference ADPC0064 and underwent significant forensic testing on a sample of magnetic and solid-state drives. During the laboratory tests, destructive forensic methods were applied to the test media to attempt to recover data with those attempts being unsuccessful. In addition to the Product Assurance assessments, a Penetration Test was carried out positively to ensure secure online use.
Jon Woodward, Managing Director at UltraTest said,
"We are delighted to be the first to be granted the ADISA Product Assurance accreditation. This certification is a clear endorsement of Ultratest's ability to meet the highest standards of data erasure and test solutions in the Hard Drive & Data Storage sector.
"Genesis represents a substantial market opportunity for Ultratest and is a key component in Ultratec Group's strategy to expand the suite of quality services we can provide our customers and enhance shareholder value."
Dr Andrew Blyth, head of the ADISA test lab commented,
"The Product Assurance checks not only ability of the software to successful overwrite data but also checks the competence of the software developer to create a consistent and viable product moving forward. It is the most comprehensive test worldwide for software overwriting tools on all media types."